Division of Labour
18 June 2021

-

30 July 2021

Free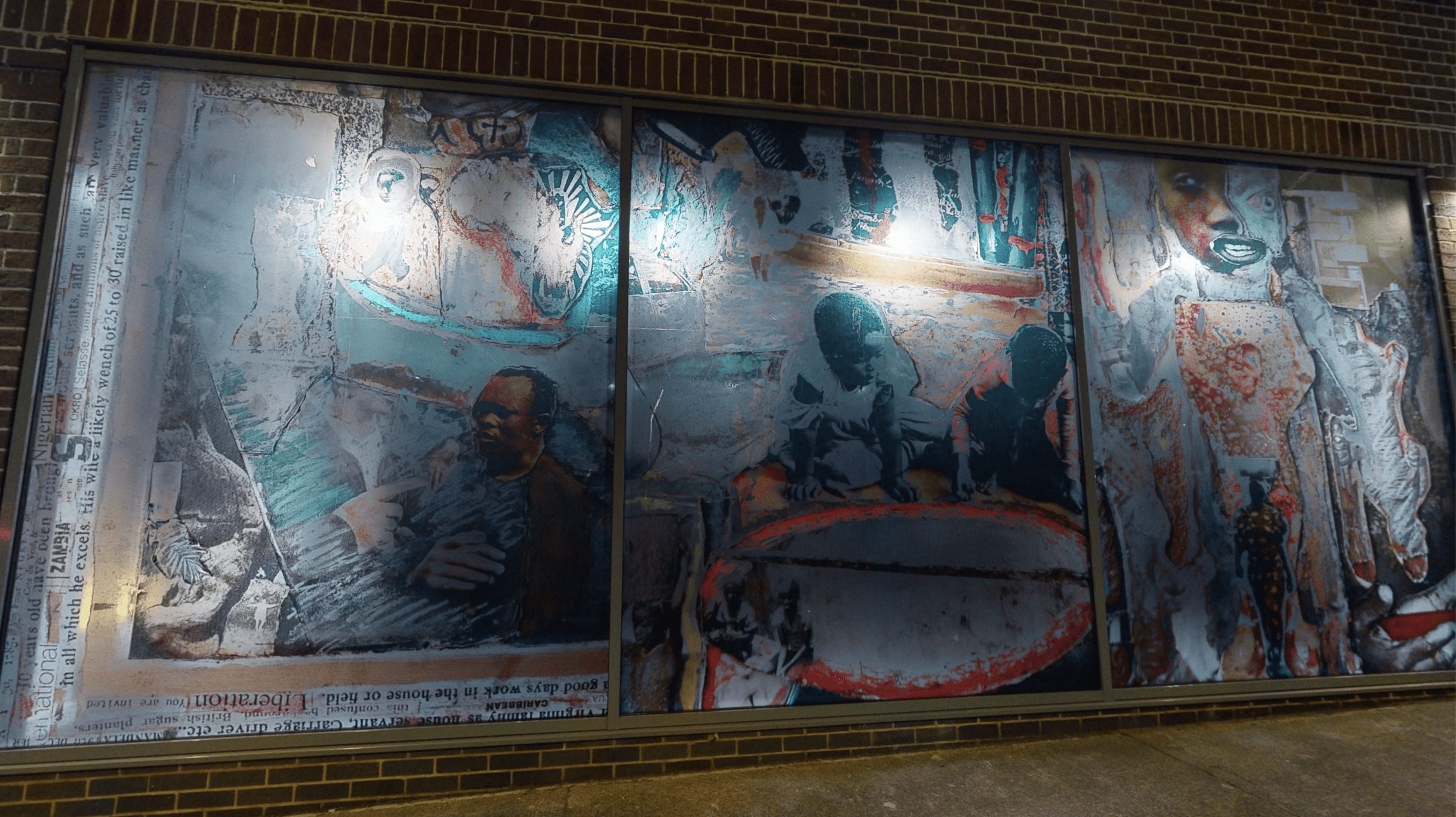 Public Artworks in Worcester, Uk
The exhibition is made up of three large format prints filling the windows of the Art House, University of Worcester. The installation reflects the artist's personal and ancestral histories, across three countries and continents, Gambia; where Vanley has, over a number of years, worked with the communities living near James Island (re-named Kunta Kinteh) in the Gambia river. Jamaica; Vanleys place of birth in the Blue Mountains. And here in the UK, Birmingham, Vanley's home, a city with a diverse working-class community engaged in change.
The artwork 'Council of Voices' is an evolving durational college nine years in the making. This iteration is shaped specifically for the Art House in Worcester. In living with this artwork for so long Vanley has arrived at an interconnected community of voices portrayed in cuttings, photos, mark-making and colour. The council is made up of a complex history of Britain's relationship with the Caribbean region that encompasses colonial exploitation and the legacies of British imperialism in the West Indies.
Est.1690 is an ongoing disruptive public art work for Worcester. The project invites world renowned artists to submit an idea and design and 'wrap around' for the Worcester Berrows' Journal newspaper. The newspaper has purportedly been in circulation since 1690 which makes it one of the world's oldest newspapers, fertile ground for artists to respond to. For this edition Division of Labour gallery and PITT Studio invited Vanley Burke and recent graduate, writer and artist Rhea Dillon to respond. The newspaper released on Thursday 29th October featured Vanleys rich archive of collected objects, music and ephemera. Images of his flat near the centre of Birmingham. The archive was previously recognised in his 2015 Solo Exhibition 'At Home with Vanley Burke' at IKON, Birmingham. The images Burke chose here serve as a poignant reminder of the rich history of the black British experience, one that is diverse, full of contradiction but also brimming with possibilities. His images are also accompanied by a written poetic response entitled "The Minute He's Dethroned He Becomes An Object," from Artist Rhea Dillon whose work examines and amplifies representations of blackness and its relationship to queer thought and feminist theory.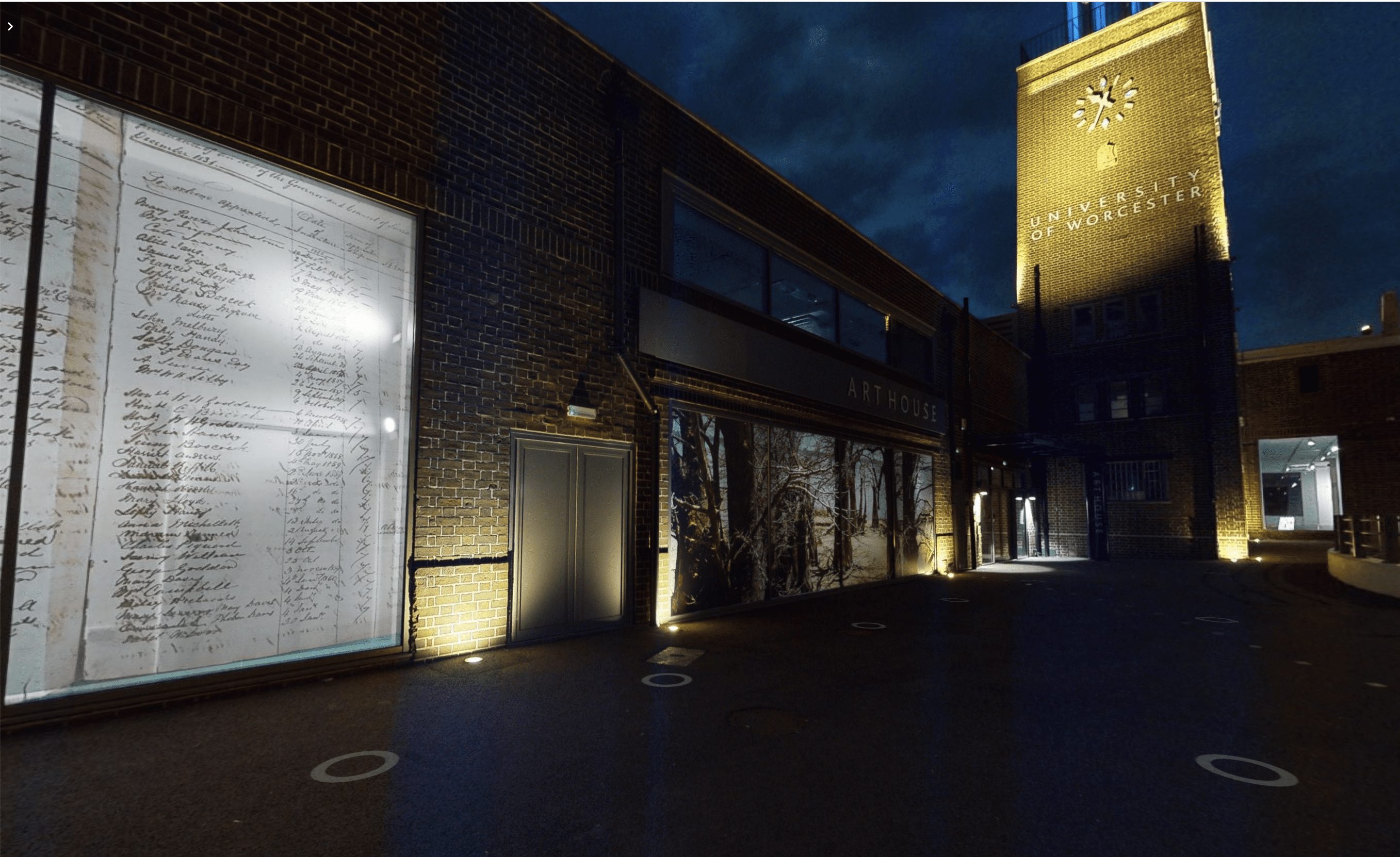 Council of Voices
For over nine years between 2000 and 2009 Vanley Burke made this large photomontage and collage work from his flat near Birmingham's City centre. Made in sections the panels were worked and reworked, black and white prints are hand coloured cut out, spliced together and covered up. The Council of Voices uses scale, time and text to create a montage of generations in an interconnected world, a community sharing stories of pride, protest and of courage, loss and persecution. Vanley talks about this work as a council, a quiet visual conversation, a gathering for change where the viewer is asked to speak to the work and the other.
In Worcester this work will take up the large glass window gallery on Castle Street in Worcester, during the day the windows will reflect back and the transparency of the print will be darker and appear somber even mournful and yet at night the widows will illuminate and offer us something different in contemplation.
Print edition: Est.1690 Vanley Burke are available to support the artist and the ongoing delivery of the Public Art project: Est.1690 Please contact info@pittstudio to purchase your print PRICE :  120 Edition of 50 +1AP
Title: Vanley Burke : Est.1690 / Size: 35x30cm / Lithograph signed and numbered by the artists Vanley Burke
Notes:
List of Works at the Art House
Window A – Register of the Condemned, Photographed Archive
Window B – Bearing Witness Photograph by Vanley Burke
Glass Gallery – Council of Voices. Collage, Photomontage by Vanley Burke