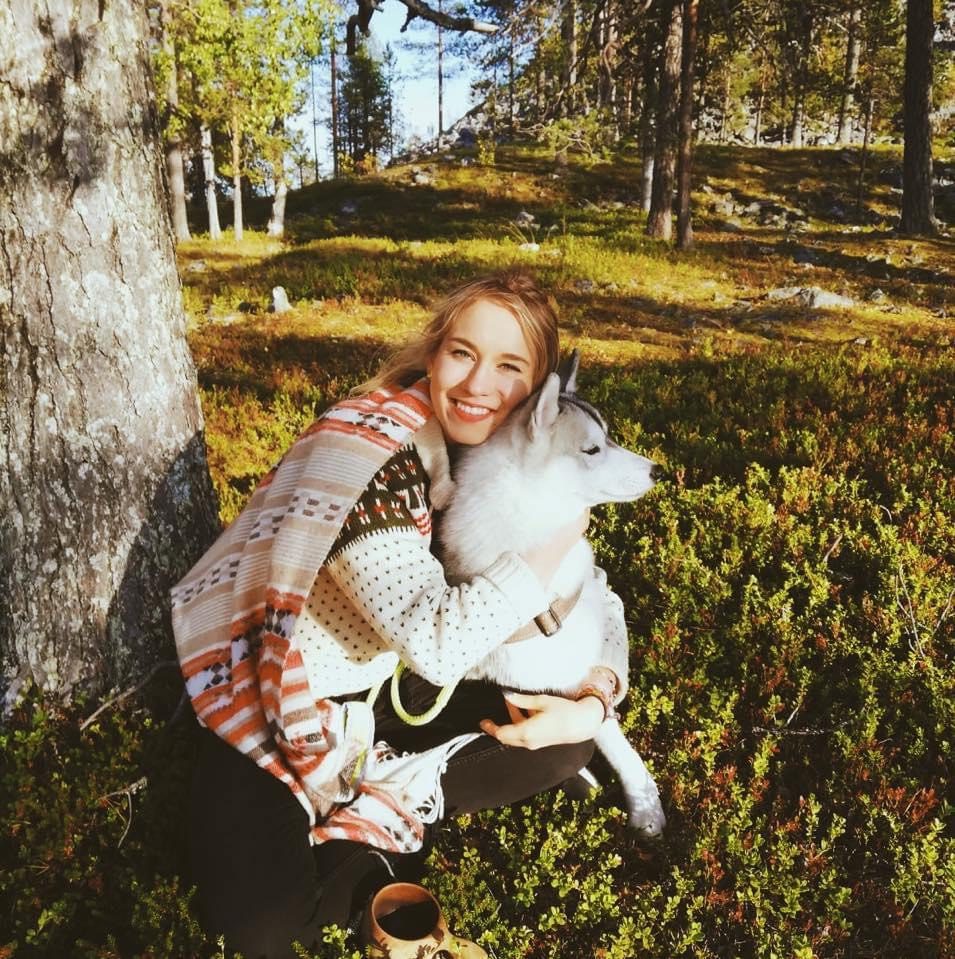 Where are you from?
I am from Finland – A city called Rovaniemi, situated on the arctic circle and known to be the official city of Santa Claus.
What do you study? 
I started university studying animation joint with illustration but changed into Major in Animation and Minor in Film Production during my second year. I realized that this would work better with my career plans to be in the animation and film industry. I enjoyed illustration too and learned a lot of good techniques to be a better artist.
Why Did you choose to study at the University of Worcester?
Before university, I spent a few years travelling around the United States and Australia. Throughout my travels, I met a lot of people who acknowledged my talent and encouraged me to go to school for art. I wasn't ready to stop travelling yet so I decided to look into studying abroad. I found out about Worcester University and saw that they offered an animation course. I liked how helpful and friendly the international staff were during my application process and the city of Worcester looked gorgeous!
You recently won a commission from The BBC New Creatives. 
How will this opportunity help your career as a new animator looking to get into the Animation Industry?  
I was thrilled to hear that I was picked to be one of BBC Arts & Art Council of England's New Creatives in 2020. I received a £5k commission to produce a short animated film about climate change. This opportunity gave me a chance to learn about how the industry works and about the inner workings of producing a film. I got to work with multiple talented people, Including Sun & Moon in Bristol, to make my story come alive.  I am very happy to have this in my portfolio and I think it will be a very helpful addition while looking for a job. I also feel a lot more prepared to work in the industry from this amazing opportunity that being at Worcester provided.
What a great achievement!
What does it feel like winning The BBC New Creatives & Working with Sun & Moon in Bristol?
I was able to hire the professional animation studio Sun & Moon (Bristol) to work on my animated short. It was truly an amazing feeling to be working with such a talented bunch of people. It was a dream come true to get a chance to work with an animated studio for something I created! This was also an amazing opportunity to make connections & begin building my future networks in the Animation Industry.
As part of your course studies, you spent some time studying in USA. How did that come about & what was it like?
I had planned to go to Los Angeles for my third year abroad to explore what the Animation Industry has to offer there. However, the covid pandemic changed my plans as travelling to the USA wasn't an option anymore. I really wanted connections from the United States, so I worked up a plan with my international coordinator at the University of Worcester and decided to start my year abroad in a European university and then travel to the US as soon as it would be possible.
I spent my first semester in Thessaloniki, Greece. I was studying mostly film courses in Aristotle university and learned a lot of interesting things about Greek cinema and Greek culture.
The university in Los Angeles had cancelled the study abroad program for the whole year so I had to find another university in the states. I ended up travelling to Duluth, Minnesota to study art and film. Minnesota was very similar to Finland, and I loved discovering the amount of Finnish heritage in the state! I spent a lot of time outdoors exploring the beautiful north shore of Lake Superior.
How did this lead to an internship with LA Animation Studio, Ancient Order of The Wooden Skull?  
I had a great time in Minnesota and luckily had a professor who was very interested in animation. She gave us assignments to animation exercises, which allowed me to brush up my skills in timing & weight. At the end of my studies in Duluth, I asked her if she knew anything about getting an internship in Minnesota. She said she knew someone and would show them my work!
About a week later, I received an email from her saying that the Ancient Order of the Wooden Skull studio would like to take a look at my portfolio. I emailed them and scheduled an interview. I found out during this process that the stop motion studio is actually located in Los Angeles! The major hub of film and animation in America.  Once they agreed to have me as an intern I was over the moon with excitement!
How did the Animation Course at The University of Worcester help to make this internship possible?
My animation course has been extremely supportive with my internship plans. We have been planning how to make sure I could have my internship while also completing my degree in Worcester and getting credit for my time in LA. My tutors think this is an amazing opportunity for me to learn and get connections, so they have offered to have zoom calls with me, now and then, while I am in LA.
The animation studio is willing to let me work on material that I can share as my Final Major Project. This allows me to do both things at the same time!!
See more of Veera's portfolio.